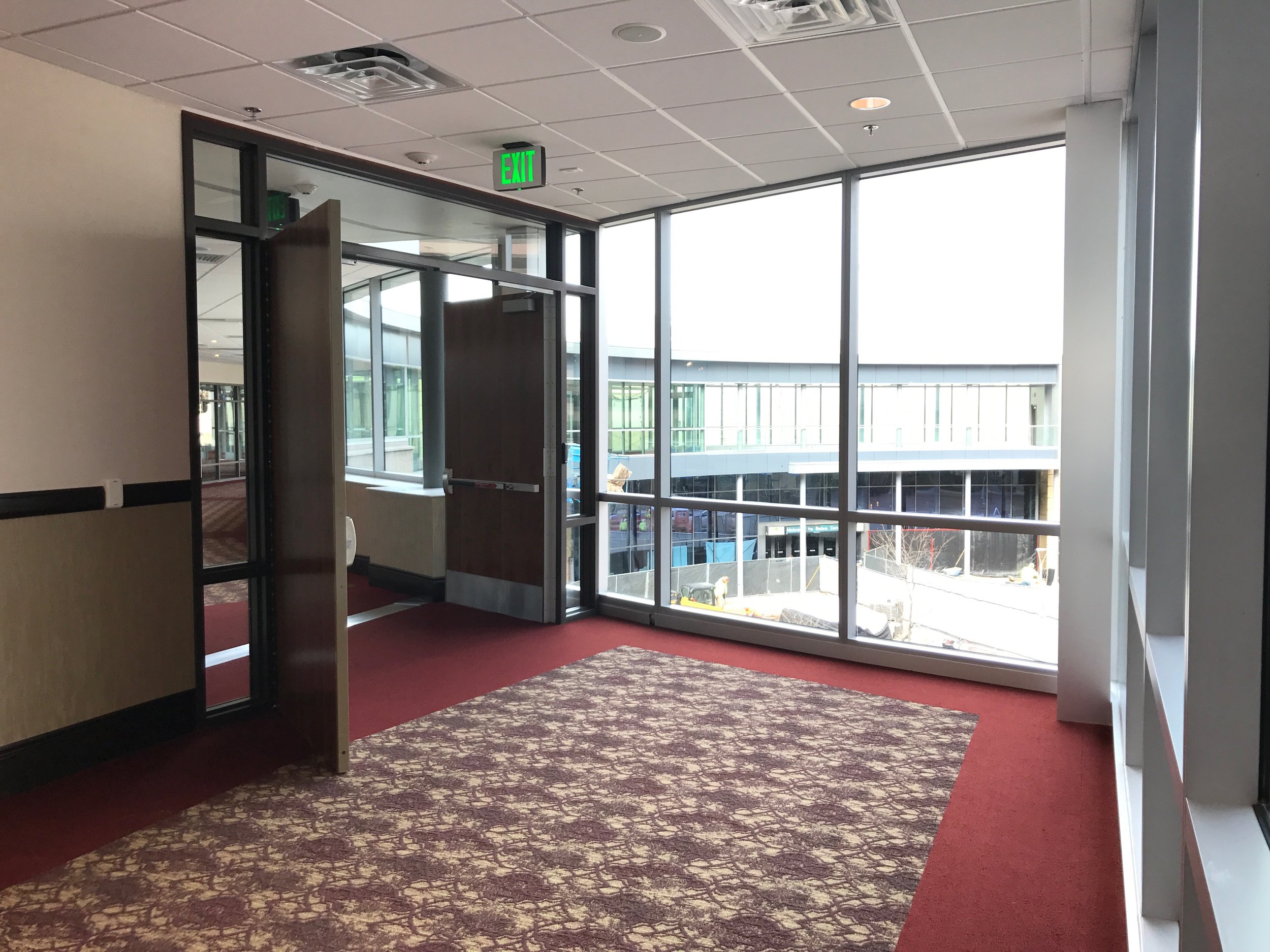 The second of three phases at Boise's convention center is complete - with the opening of an overhead walkway connecting the original building with a new facility in City Center Plaza. The project began in 2014 and is expected to wrap this summer.
Phase one: Opened last fall, bringing a new ballroom, and several additional meeting rooms on the fourth floor of a new set of buildings on the east side of the Grove Plaza.
Phase two: Wrapped up late last week and includes the construction of a semi-circular walkway that helps visitors get from the two buildings - while also connecting to the Grove Hotel and CenturyLink Arena. The building features escalators from the first floor of the original Boise Centre and to the new fourth-floor Boise Centre East. The concourse also has an outdoor area that over looks The Grove Plaza.
Phase three: Slated to open this July, and will include a new 3,800 square foot junior ballroom in the area formerly housing an underutilized theater in the original building, plus a new second-floor board room, patio and additional office space.
Also coming:
New, large video screens in the lobby
Adjacent to the second-floor patio, a new herb garden will be installed. Produce from it will be used by the Boise Centre's executive chef in some of the catered meals in the building.
Seventeen new restroom stalls for women, a few additional for men and the addition of a family restroom.
The entire convention center building will be repainted in "warm gray tones" to match the new Boise Centre East architecture.
All the rooms in the existing building will be given numbers, moving away from their current named scheme.
New logo signage behind a portion of the outdoor concourse.
Largest... convention... ever: Mary-Michael Rodgers, Boise Centre Communications Manager says the Council of State and Territorial Epidemiologists will return to Boise for the second time - bringing a conference of 1,400 people - the largest ever at Boise Centre. The group previously held its event at Boise Center in years past when it was much smaller. The conference was originally slated to be held in North Carolina but was moved in the wake of that state's controversial bathroom law, Rodgers said. Participants will stay in thirteen local hotels - and nine hotels in the greater Downtown are already sold out for the June 4-8 event. This event will be one of about a dozen conferences this year that will use both buildings.