With road construction and other infrastructure work in full swing at St. Luke's Regional Medical Center in Boise, the next phase of its multi-year expansion is getting ready to launch.
St Luke's officials have filed plans with the City of Boise for a combined parking garage and central plant - to be located on a block bound by State St., 1st St., Jefferson St. and 2nd St.
It is also planning to build a new shipping/receiving building across Jefferson St.
The land currently hosts about a dozen converted homes and other buildings used by the Health System for offices and various functions. Some of those buildings, like the Bishop Foote Guest House, are being relocated.
The buildings will be replaced with a six-deck parking structure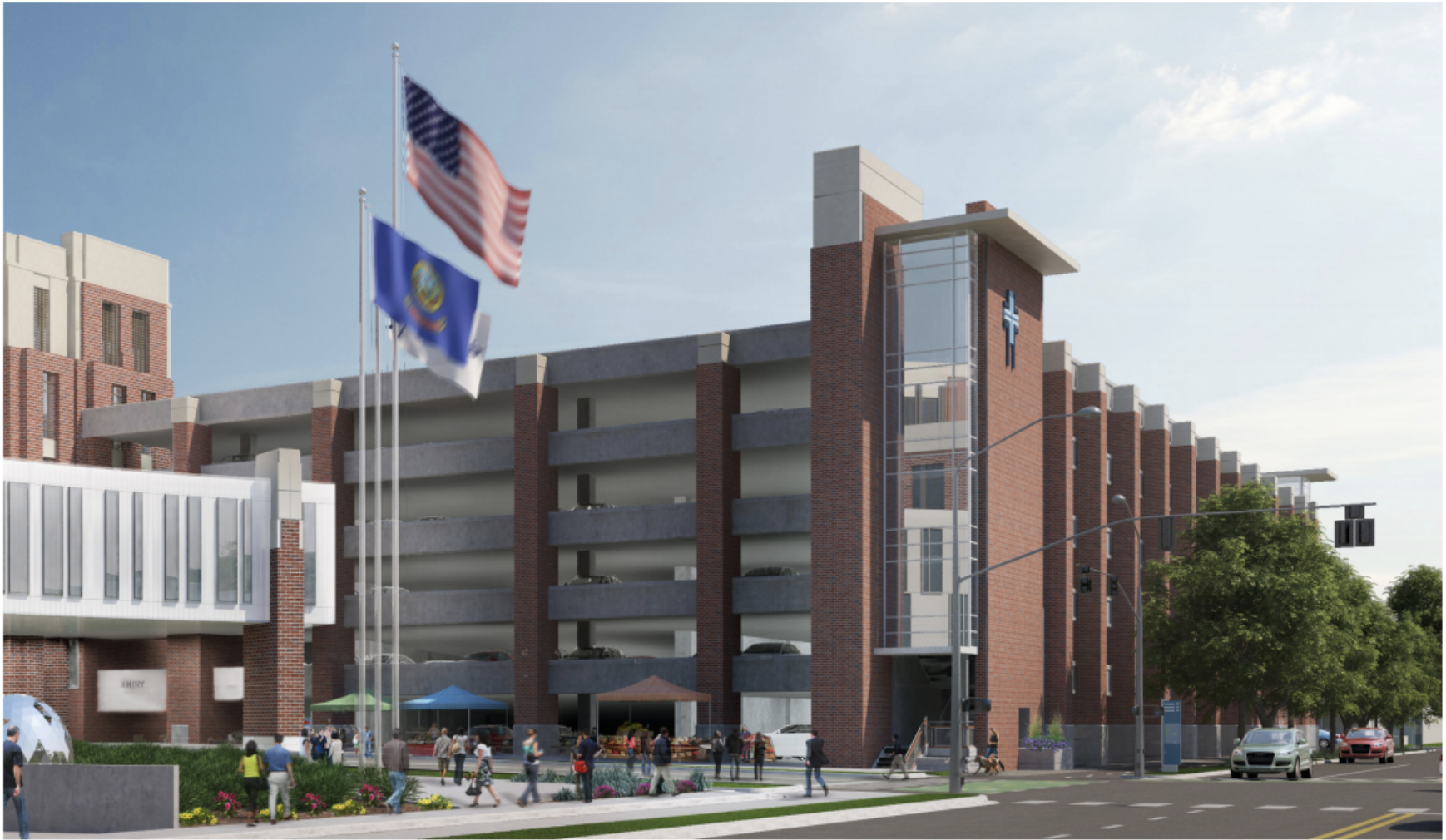 The garage would be six stories tall plus two basement levels, and provide parking for 1,130 vehicles, the number pegged in a 2013 parking demand study commissioned by the hospital system. According to floorplans, it will also include bike storage for 20 cycles, plus a repair area and station for Boise GreenBike. It would be designed to connect to a future medical office plaza that would extend over 1st St.
The project will need a conditional use permit from the City of Boise. A hearing is set for May 7th at 6 p.m. at Boise City Hall in front of Boise's Planning and Zoning Commission.
The hospital system is asking for two exemptions for the garage/central plant portion of the project:
The height of the garage tower exceeds City of Boise standards for the area by 15 feet due to the height of an elevator tower according to documents filed by St. Luke's and its architect.
The building would also be positioned right up to the right-of-way along Jefferson St. and 2nd St - and part of 1st St. City guidelines dictate a minimum 20-foot setback. The application letter says the encroachment is needed to fit all the needed equipment in and provide the desired amount parking on the block.

St. Luke's says if it isn't permitted to build the structure in the way it has outlined, it would require building up ten stories instead of six. "Making a change like this would likely decrease the efficiency of the garage and would increase time required to get in and out of the garage. Building lower than we currently are would be cost prohibitive, as we are already showing 2 parking levels below grade."
A second building next door on the block bound by Jefferson St., 1st St., Bannock St. and 2nd St. would house shipping and receiving - with rooms for trucks to load and unload equipment for the campus, to be distributed via a network of underground tunnels. SLHS is asking for setback variances for this building as well:
15 foot encroachment on 2nd St.

Requested to "accommodate the turning radius of the semi-trucks and compactor trucks."
SLHS says if this is not approved, it would have to flip the building - which would expose loading docks to 2nd St. It has provided a rendering. It also says flipping the building would require a "concrete drive aisle all along street front. The area available would not be adequate for a standard semi's turn radius which would require smaller trucks making more trips which would dramatically increase the truck traffic on the streets.

20 foot (full) encroachment on Bannock St.

Requested to "accommodate for the requirements of bulk medical gas storage."
If not approved, SLHS says it would lose one loading dock, storage space and a generator set. "These would have to be relocated to a future expansion in another part of the campus which would add a level of complexity to the electrical system."
A St. Luke's spokesperson tells BoiseDev "(We) redesigned this to be a better neighbor by flipping the delivery area from the outside of the building along the street to the inside. This will quieter, and more attractive from the street, as the area facing the road will look like a typical St. Luke's brick building."

14-foot encroachment on Jefferson St.

SLHS says the City has indicated it is not as "concerned about the setback requirements for internal facing property lines."